---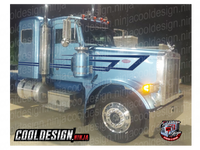 Blue Silver Under Wedge Short hood 36in Peterbilt Stripe Kit
Made from premium quality 3M Scotchcal 180C vinyl with Comply Technology for easy installation and clean removal. Stripe works well with unit/registration numbers and door logos.
Fits Short Hood Peterbilt 379/389 with 36in bunk and wrap around rear stripes.
Don't have a 389?...contact us to get this stripe made for your truck!
Questions?...not sure? Email us questions or pictures of your truck to see `will your truck look fat in this stripe?`
---