---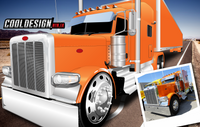 Custom Vehicle Digitizing
Get your rig custom digitized for printing on cool custom T-Shirts and posters.
Send in some good photos of your truck and we can turn them into a custom digital design made just for you. We can add company logo, lettering and background for a slick custom design to advertise your company or just how badass your ride is.
Once the design is made we print up and send out a 18"x12" poster of the design and email you a finished high-resolution digital design file for your own printing and archiving.
Need Custom T-Shirts or posters printed?
---