---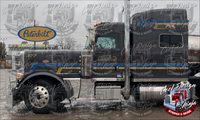 Double Overhook Peterbilt Stripe Kit
Made from premium quality 3M Scotchcal 180C vinyl with Comply Technology for easy installation and clean removal. Stripe works well with unit/registration numbers and door logos.
Fits Peterbilt 379/389 (and some other straight hood petes) with big bunk and extenders.
Don't have a 379/389? Want a different color?...contact us to get this stripe made for your truck!
Questions?...not sure? Email us questions or pictures of your truck to see `will your truck look fat in this stripe?`
---